5 Reasons Why a Small Landlord Should Use Property Management Software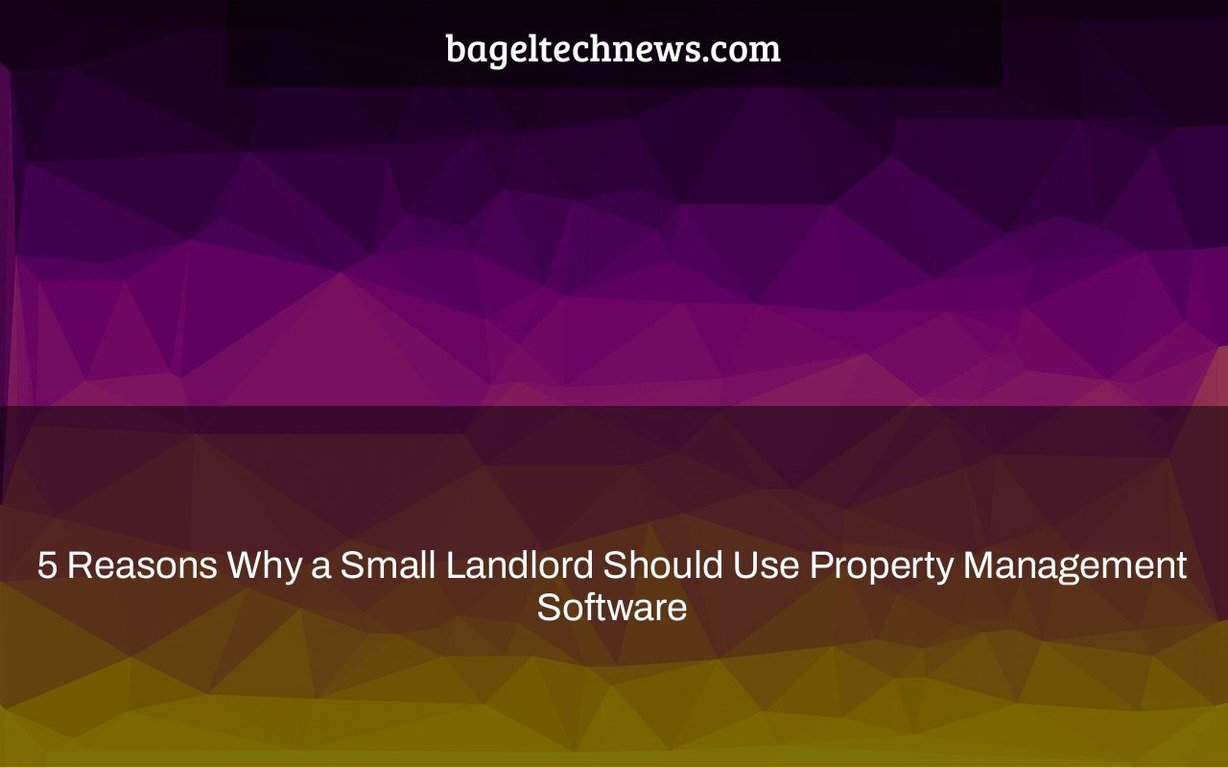 Property management software is designed to help small landlords manage their property without the hassle and costs. These programs are built on cutting-edge technology that reduces errors and streamlines every step of your rental process. This guide will highlight some of these benefits plus five other reasons why a small landlord should use this platform in 2019.
A small landlord should use property management software because it allows them to manage their properties and tenants more efficiently. Here are 5 reasons why a small landlord should use property management software.
Although many new landlords still collect paper applications and accept checks, property management software is more lucrative. It's ideal for those who want flexibility without sacrificing convenience or simplicity of use.
What are the benefits of using real estate software for landlords? Landlords may use property management software to run their businesses more efficiently, maintain their buildings better, and boost their profit margins. Small landlords may use software to help them run their businesses more effectively, from selling property to finding tenants and collecting rent payments.
The advantages of employing property management software are many.
Over the past 10 years, online property management systems have evolved into an exceptionally powerful and cost-effective resource for landlords. Modern software solutions provide a comprehensive collection of capabilities that are appropriate for a variety of landlord types. Furthermore, as the quality of the software available to landlords increases, so does the expense of employing it.
Here are five reasons why property management software should be used by landlords.
It's a dream come true to find and lease to high-quality renters with the best rental history, financial resources, payment habits, responsibility, conscientiousness, communication skills, and teamwork. Using online tools to screen candidates makes the process more entertaining and productive.
With the aid of a tenant screening report, landlords can determine if a renter is a suitable match for their empty rental property. The more information they have about their renters' history, the safer their rental property and company will be.
The cost of screening varies depending on the software. Prices may also vary based on the demands of the landlord.
Both the landlord and the renter benefit from the convenience of online payments. Digital payments are safer than paper checks, and setting up automatic withdrawals might help you avoid late fees. All invoices, late fees, and receipts may be generated in an automated and digital manner.
Your rental property will be advertised on the internet.
If a rental property is left unoccupied for an extended period of time, the landlord loses money. Landlords that do not market their homes on the internet are missing out on a vast pool of prospective tenants. Fortunately, we live in a time when obtaining a rental property is simpler than ever before, and looking for rentals online is usually free!
The majority of property management software programs will market and advertise your rental vacancy for you on the most popular websites.
Keeping everything in one place, particularly when it comes to accounting, may be tough. Everything is in one place with the aid of software: log payments, monitor expenses and payments and when they are made or received, digitize receipts, and automate sophisticated accounting reports.
Property management options are available in reports. TenantCloud, for example, is an all-in-one system that allows users to create rental and financial reports as well as manage an infinite number of properties and units utilizing reports, ranging from single-family homes to multi-unit complexes. Landlords may keep track of all rent payments and provide a single renter a summary of costs and payments.
Users of property management software may create reports in their own style. Landlords can do more with less, and software will provide custom reports that are precisely what they want, when they want them, and on time.
last thoughts
The rental management sector has benefited greatly from modern software development. The majority of instruments are growing more and more effective while also becoming less expensive. In fact, several free property management software options exist that provide the same set of functionality as the more costly, older versions. Property management software, regardless of whatever choice you choose, may be quite beneficial to your rental management firm.
Watch This Video-
Property management software is a great tool to have if you are a small landlord. It will help you keep track of your property, and manage it more efficiently. Here are 5 reasons why a small landlord should use property management software. Reference: property management companies.
Frequently Asked Questions
Why you need a property management system?
A: A property management system makes it possible to manage your entire portfolio of properties from one central location. It allows you to keep track of all your assets and maintain the records for each individually in addition to managing them as a whole, which ensures that you always have accurate information about every piece of investment and provides peace-of-mind through knowing everything is stored safely on signup.
What are the 4 main things about property management?
A: These are the four main things about property management. They include, leasing properties, managing tenants and residents rights, paying for maintenance on properties and collecting rent from your tenants or residents.
Which software is best for landlords?
A: This would depend on the type of software, your needs and preferences.
Related Tags
best landlord software
landlord property management software free download
free property management software for landlords
best free property management software for small landlords
best property management software 2020